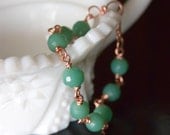 I say it looks like something from the Middle East or the Southwest, my buddy says it looks like something you'd see in China... either way, this solid copper and faceted Peridot glass bracelet is just FUN to wear! Hand wrapped beads, hand formed and hammered clasp.
~~~~~~~~~~~~~~~~~~~~~~~
Made in my home amongst the chaos of my crafty...
Click Here to Visit My Etsy Shop!